Norco Shinobi 29'er – Tested
This was a sweet review on Norco's newest 29er offering by the guys at pink bike.
Jun 20, 2011
"Norco Shinobi
Norco's 29″ wheeled Shinobi is the Canadian company's stab at constructing a trail/all-mountain big wheeler that capitalizes on the advantages of 29″ wheels, but doesn't forgo the sturdy B.C.-friendly pedigree that their bikes' have become known for. This is no anorexic, skinny tired race steed, but rather a 120mm travel bike that will be happy to be ridden day in and day out on challenging terrain – no matter if that is climbing or coming back down.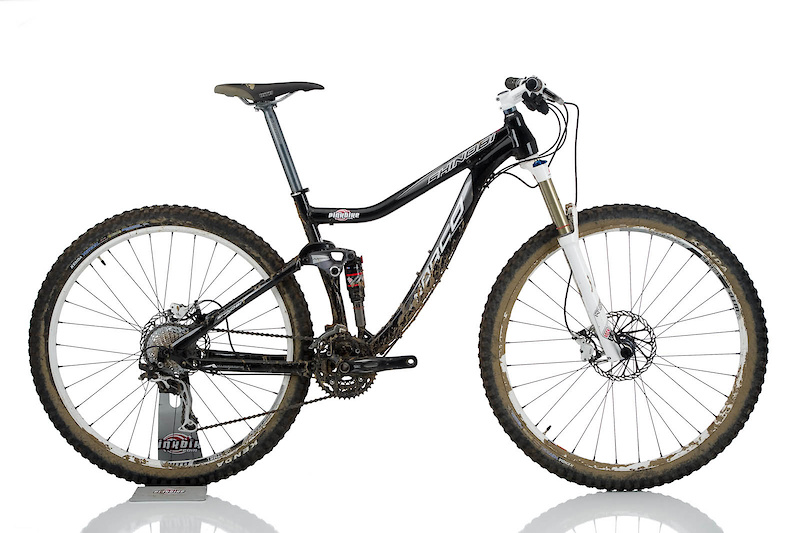 Norco's 29 inch wheeled Shinobi looks ready to take its rider way out into the back country, even if that does include some serious terrain.

Norco Shinobi details:

– 29'er trail/all-mountain bike
– RockShox Monarch 2.1 MM3 air shock with 120mm of rear wheel travel
– RockShox Reba 29'er fork with 140mm of travel and 20 mm MaxleLite
– Uses Norco's A.R.T suspension design
– Short, tapered head tube
– Post mount rear disc brake mount
– ISCG 05 chain guide tabs
– Cable routing for a dropper post
– Shimano 10 speed gearing
– Available in four sizes: 16.5, 18 (tested), 19.5, 21
– Weight 31lbs 1oz(w/o pedals)
– MSRP $2860 USD
At the heart of the Shinobi is its A.R.T. rear suspension, a variation of the proven Horst link design, that has been tweaked by Norco's engineers to perform to their liking. By moving the location of the pivots, even if it is only by a few millimeters, Norco claims that they have been able to improve both pedaling efficiency and bump absorption, all while tuning the leverage ratio to provide more response to damper adjustments. While that all may sound like tall claims, the A.R.T. system does incorporate a fair bit of anti-squat to keep the suspension calm while the bike is under power, as well as a slightly more reward axle path than bikes that use a similar layout.
Activating the Monarch shock is a stout, welded one piece rocker arm, along with a unique looking seatstay arch that actually wraps around the front of the seat tube. Everything rotates on sealed bearings and the main pivots are protected from the elements – Norco is a B.C. company – by clean looking dust cups.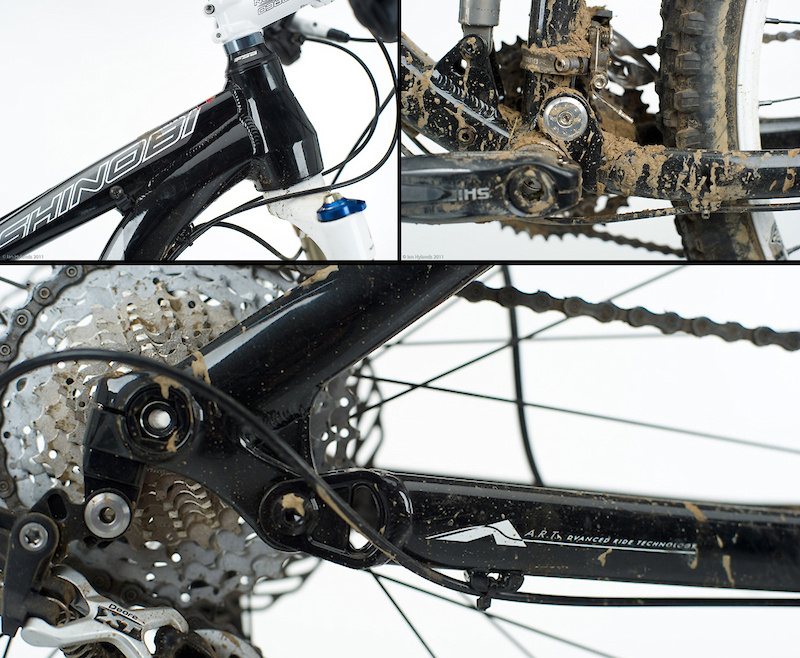 A short and burly tapered head tube (top left) helps to keep the front end low and stiff. The Shinobi's main pivot (top right) is positioned relatively low. Hidden behind the mud is a set of ISCG 05 chain guide tabs – a nice touch for those who want to mount a sturdy dual ring guide or even a HammerSchmidt crankset. The Shinobi's A.R.T. rear suspension is a version of the proven Horst link design that Norco's engineers have tweaked to perform to their liking.
As is common knowledge now, making only minimal changes to allow 29″ wheels to be fitted to a frame that was originally designed for standard hoops will not result in a bike that rides well – it just isn't that simple. Not only must the extra wheel height be taken into account, which is compensated for by a shorter head tube, more stand over clearance and a lower bottom bracket height in relation to the bike's axle line, but the slower steering caused by the longer wheelbase and heftier wheels and rubber must also be combated by employing a steeper head angle. Norco has taken all of those things into account with the Shinobi, including a top tube that slopes drastically downward towards the seat tube to give the rider a bit more extra clearance where it counts, as well as quite a low bottom bracket height, at 355mm, for a 29″ wheeled bike.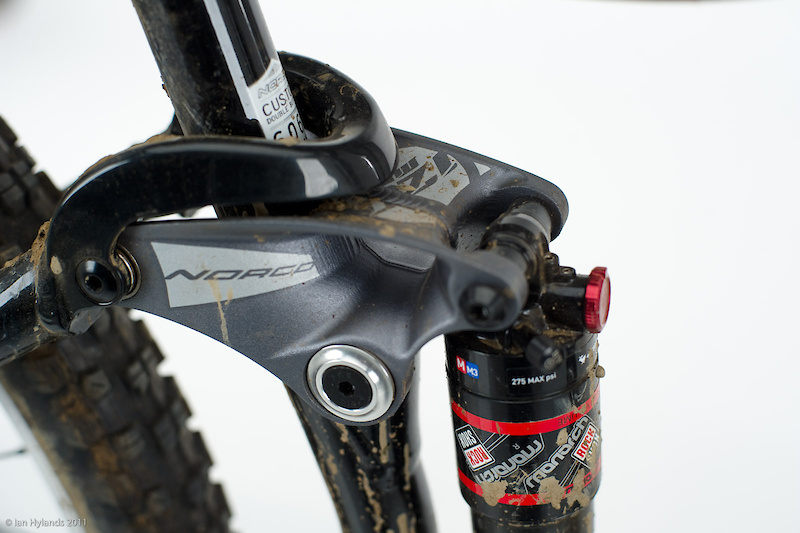 The Shinobi's welded, one piece rocker link and unique seat stay brace arrangement helps to keep the long chain stay length required by the 29'er wheels stiff. The rear-to-center length on the Shinobi is actually 5mm longer than that of Norco's DH bike.
Norco Shinobi geometry, 18″
| | |
| --- | --- |
| Head angle | 69.5° |
| EFF Seat Angle | 74° |
| Top Tube (theoretical) | 579mm |
| Chainstay | 450mm |
| Bottom Bracket Height | 335mm |
| Actual Frame Size (seatube length) | 457mm |
| Wheelbase | 1149mm |
Norco has wisely spec'd the Shinobi to be handle nearly any sort of terrain that you may find yourself on while aboard the bike. The front of the bike gets a bit of extra travel compared to the rear with a 140mm RockShox Reba, complete with a tapered steerer and 20mm thru-axle. Knowing that the bike may see larger riders or difficult terrain, you'll also find a matching set of 185mm rotors used by the bike's Avid Elixir 5 brakes.
Due to a 29'ers added rotational weight and overall heft Norco logically installed a triple ring crankset, as well as a large spread cassette with a 36 tooth cog out back, giving the Shinobi pilot quite an easy gear that should allow getting the bike up and over all but the gnarliest climbs.
Specifications
Release Date
2011
Price
$2860
Travel
120mm
Rear Shock
Monarch 2.1 MM3 air shock (200 x 51 mm)
Fork
Rock Shox Reba 29er 140mm, tapered S/T with 20 mm Maxle lite axle
Headset
FSA Orbit E
Cassette
Shimano CS-HG81 11-36T 10 speed
Crankarms
Shimano M552 10 speed crank
Bottom Bracket
Shimano external BB
Rear Derailleur
Shimano XT Shadow R/D 10 speed
Chain
Shimano HG74 10 speed
Front Derailleur
Shimano SLX
Shifter Pods
Shimano SLX
Handlebar
Norco SL 29er Flat Bar 680mm – Grey
Stem
Norco SL alloy – White
Grips
Norco Shield dual density lock-on grip
Brakes
Avid Elixir 5 w/185mm rotor
Hubs
Formula
Spokes
Double butted black w/ Grey alloy nipples
Rim
WTB LaserDisc Trail 29er 32hole – White
Tires
Kenda Nevagal Folding Bead 29 x 2.2
Seat
WTB Silverado Race SL with custom graphic
Seatpost
Norco SL – Grey double bolt
Riding the Shinobi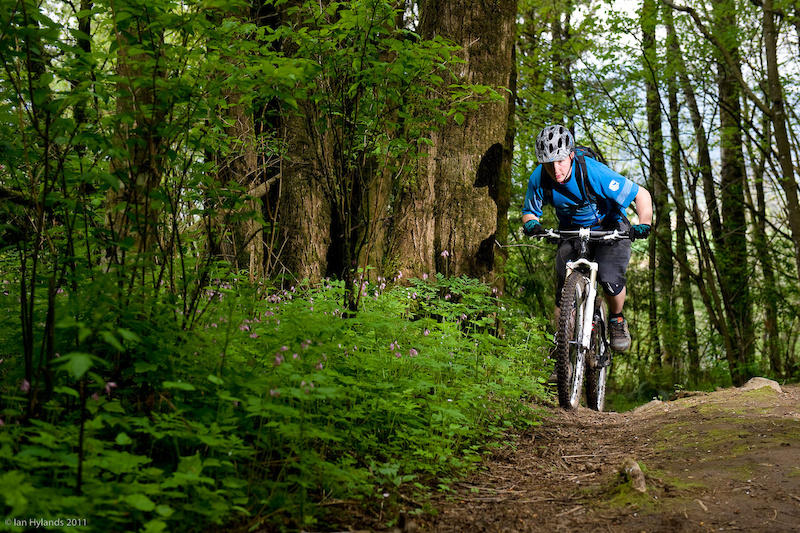 The Shinobi may be a bit portly, but it was at home on long climbs and responded well to both sitting or out of the saddle efforts.
Climbing: Despite being a touch portly at just over 31lbs, the Shinobi proved to be an excellent climber that can easily hold its own against much lighter machines, showing us once again that a bike's character cannot be determined by the digits on the scale. A number of factors come together to make the Norco big wheeler ascend better than expected, but the primary reason is surely its Monarch 2.1 air shock, which RockShox seems to have absolutely nailed the tune on, and its A.R.T.-tweaked Horst link suspension that puts a lot of emphasis on climbing performance (There is a 20% increase in chain growth on the A.R.T design). The 120mm travel Norco is nearly indifferent to whether its pilot is seated or standing when putting the power down, and the bike goes forward with an impressive surge, even on steep pitches or accelerating from slow speeds – something that 29'ers, with their heavy wheels, are not usually known for. This is somewhat surprising given that the Monarch 2.1 damper doesn't come equipped with any sort of pedal assist feature, a fact that I questioned before putting any serious trail time on the bike, but the Shinobi demonstrated that it didn't require it in the slightest, even on long smooth climbs where I would normally be reaching down to flip a switch.
While the steep 74° seat angle certainly suits a rider like myself who likes to stay in the saddle and grind out a long climb, the bike was equally adept at charging up and over a rough pitch, and each time I did just that I was surprised by the climbing traction provided by its Kenda Nevegal tires – a tire that I'm not overly fond of in its 26″ wheel size. Given enough momentum, the Shinobi managed to give me less hassle on such sections than most other bikes, although slower, technical uphills tested the bike's abilities much more. Line choices on such sections of trail needed to be thought out before attacking more so on the Shinobi than on some other bikes, not because it couldn't get up it, but because the black bike felt to be far less maneuverable once the the pace approached stalling speeds. The proper tactic seemed to be to look ahead and pick a straighter, and if need be a rougher line, and then spring your attack and carry that momentum up with you.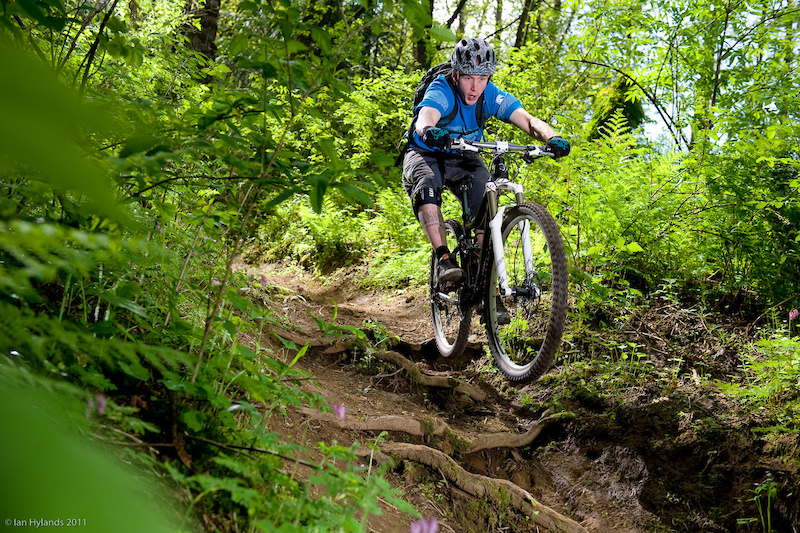 Once used to the narrow 680mm bars, the Shinobi was a demon on the downhills, especially when a shorter than stock stem was installed.
Descending: It was clear, even on the first ride, that the Shinobi is an easy bike to come to terms with when the trail begins to point down. It only took a few feet of trail to realize that the 120mm travel Norco has that comforting "sit in" feel that is common to downhill bikes. Where does it come from and how is it possible given the bike's taller wheels? It can be traced back to the bottom bracket height in relation to the bike's axle center line, frequently referred to as "BB drop", which is lower on the Shinobi than on a standard 26″ wheeled bike. The actual BB height of the 29″ wheeled Shinobi sits at 335mm, closer to the ground that many other 120mm travel machines with smaller diameter 26″ wheels, with the result being an incredibly planted feel when cornering that makes the bike seem as if it is on rails when pushing hard. Further raising the fun factor is the bike's incredibly stiff frame, despite the rear end being 5mm longer than Norco's downhill bike, that is no doubt enhanced by the bike's rear thru-axle. It's high time that we see more cross-country and trail bikes that use a proper 12mm rear axle like the Shinobi employs.
This was my first extended test of a bike equipped with RockShox's Monarch 2.1 air shock and I was impressed with how it performed. No, it isn't a coil shock, but it does a tidy job of controlling the Shinobi's 120mm of travel and striking a balance between small bump compliance and big hit performance. With only external rebound and air spring pressure to play with, it will also be difficult to setup incorrectly. Matching the Monarch damper hit for hit was the bike's 140mm travel Reba 29'er fork. As on most forks, I found that I had to run about 10psi more than recommended, but once the spring rate and rebound were sorted it proved to be a set and forget type of fork – stiff and always in control of its stroke, the tapered steerer and 20mm axle equipped Reba is capable of tackling any terrain that the Shinobi would see. It is suspension units like this that should make us question the hankering that many of us have for whatever fork or shock has the most dials to fiddle with.
| | |
| --- | --- |
| | It only took a few feet of trail to realize that the 120mm travel Norco has that comforting "sit in" feel that is common to downhill bikes. -Â Mike Levy |
Common thought is that a 29″ wheeled bike requires a slightly steeper head angle to counteract the larger wheel, longer wheelbase and extra heft, and while I would tend to agree with that in theory, I also believe that a lot of today's 29'ers are getting sold a bit short by dodgy handling that is better suited for a full blown cross-country race rig, not a fun loving trail bike. I do have to say that the Shinobi's 69.5° head angle certainly isn't out of line with the bike's intentions, but the stiff chassis and quality A.R.T suspension really do allow aggressive riders to push the bike hard, possibly to the point where the steering can begin to feel a bit pointy and nervous. A shorter stem than the stock, and very light, Norco unit went a long way to calming the bike down without eroding its great climbing performance. This, along with the addition of a telescoping post, is the bike's top upgrade, and one that many riders who frequent aggressive terrain should look at doing.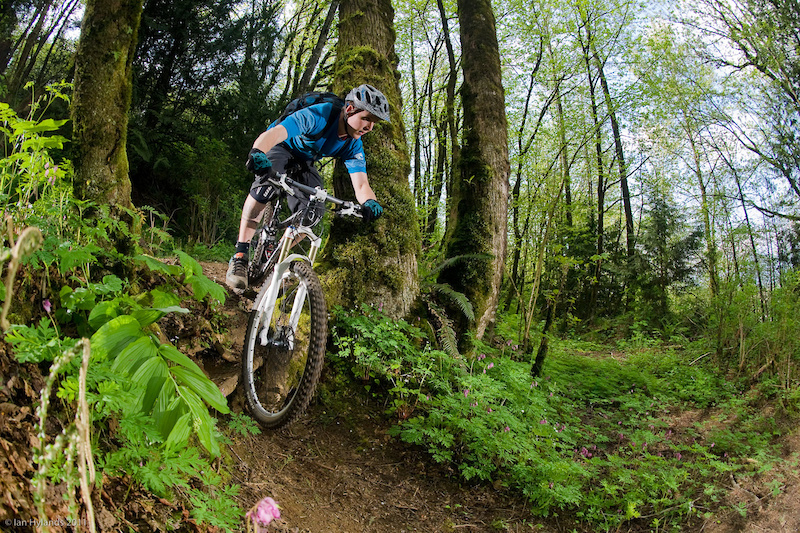 While the 69.5 degree head angle is well suited to how the Shinobi is intended to be ridden, a slightly slacker number would appease more aggressive riders.
What about those parts?
• Unlike the majority of testers out there, I've never been a big fan of Kenda's Nevegal tires, which is why I was surprised to find that the 29'er 2.2″ Nevegals on the Shinobi impressed me. Fast rolling, predictable handling and zero flats. The 29″ tire's contact patch is a different shape than that of a standard 26″ tire – is that the reason for the difference?
• Shimano's 10 speed XT and SLX drivetrain mix performed very well, needing only the smallest of adjustments once the housing seated in. The bike spent a lot of time covered in mud and grime and I'd say the 10 speed system came through with flying colors. This is yet another nail in the coffin of 9 speed in my mind.
• Avid's Elixir 5 brakes reminded me that one doesn't need all the bells and whistles of a high-end brake to have them work well. The Shinobi's brakes were firm, had plenty of power with the 185mm rotors and didn't once fade of pump up.
What's not to like?
• The bike's main pivot worked itself loose multiple times during the review process and it isn't helped by the fact that I had to remove the crankset to access it. Not even a touch of blue Loctite would keep it snugged up.
• The Shinobi comes with a nice, house branded Norco SL 29er Flat Bar that measures 680mm wide – this is not enough width, especially considering the bike's sturdy ride and extra weight. I can see a lot of Shinobi owners bolting up a shorter stem (to slow down the handling), along with ditching the headset spacers to run a taller, but much wider, handlebar. This rig deserves it.
• I put a good sized wobble in the Shinobi's rear WTB LaserDisc Trail 29'er rim, despite not being able to think of an instance that would account for it.
• The one part that I would have loved to talk about on the Shinobi would be a telescoping seat post… but it doesn't come stock with one. Take advantage of the bike's dropper post routing and make it the first upgrade you do to the bike.
Pinkbike's take: With a sturdy chassis and quality suspension that really does punch above its weight, the Shinobi is much more capable than I first expected. Who would be the ideal Shinobi rider? The bike is best suited to someone who puts in a lot of cross-country miles, possibly on a longer travel bike than the 120mm Shinobi, and now wants to get on a machine that pedals better without losing that confidence inspiring feel that longer legged bikes have. While I would look elsewhere if your climbs involve a lot ratcheting around technical, slow speed obstacles or your downhills consist of non-stop ass-on-rear-tire steep sections, the Shinobi proved to be a capable bike that can out ride many other lighter or longer travel bikes.
You can check out the entire Norco lineup on their website.
Norco mixes its B.C. pedigree with 29'er wheels and the result is a solid trail bike that inspires confidence. Does the Shinobi have you mulling over making the switch to big wheels? Lets hear what you think – put those thoughts down below!"